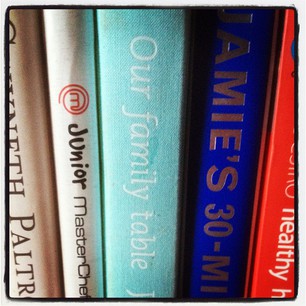 There is a certain irony to writing a blog post about cookbooks on a night one child in your family is having a hotdog, the husband is having leftover pumpkin soup and yourself and the other child are heating up some frozen spinach and ricotta pasties – Sunday night is gourmet at Shambles Manor.
However, disregarding our current culinary situation I was inspired by a post I read recently on Little Macaroon where she shared her cookbook collection and told a story about each.
I seem to have misplaced a good number of mine at the moment but thought I would share a few with you.
1.  Four Ingredients
The original four ingredients book by Kim McCosker and Rachael Bermingham was a book I turned to frequently when I doing the single-mother thing in Port Macquarie while my husband remained in Brisbane renovating and selling our home. It's gone AWOL at the moment between the many moves in the last five years. There was a recipe in there for lamb cutlets which you painted in teriyaki sauce and baked in the oven – Princess Child still regards it as her favourite meal. This was the cookbook which taught me to love my oven. To come home after work, bung together four ingredients and shove it in the oven while I wrangled the kids through homework and baths was a godsend.
2. The CSIRO healthy heart program
This one got a workout after the heart bypass when we had to chuck out all the salt-laden, bottled ingredients and go for natural, natural, natural. The tomato & oregano cannelloni made a few appearances on the dinner table from this cookbook.
3.  Our Family Table – Julie Goodwin
Turn to this one occasionally, usually for the sweet stuff. The milk chocolate pots finished off a couple of dinner parties. While the never fail cake has been prepared by Aunt Dorothy for birthday parties.
4.  Marion – Recipes and Stories from a Hungry Cook – Marion Grasby
Bought this one at Coles on special a little while ago. Haven't used it yet but liking the look of Eight-Hour Lamb Roast with Tomato & Herb Gravy.
5. Junior Masterchef Australia The Cookbook Vol. 1
I'm beginning to see Masterchef has stealthily invaded my home (Goodwin and Grasby were both on the tv shows) and here is the book Princess Child HAD TO HAVE. So far she has made fresh pasta out of it – which was delicious.
6. Australian Women's Weekly Thai
No idea why I own this book, I suspect it may have been a Mr Shambles purchase back in the days when he used to cook. I've never used this book.
7. Jamie's 30 Minute Meals
Look, 30 minutes might be a stretch, let's just allow 60 to be on the safe side. The family did my birthday dinner last year out of this one – tray baked chicken, squashed potatoes, creamed spinach. Lots of dishes I want to try in this one.
8. Love & Hunger Thoughts on The Gift of Food – Charlotte Wood
Read this one as part of the ABC Mid North Coast Book Club. Husband loved the Lamb Tagine with Dates and Raisins.
9. Notes from My Kitchen Table – Gwyneth Paltrow
I don't know why this is my favourite cookbook. I keep coming back to it time and time again. I love the pictures. I also love that there's some recipes in there that take next to no time to cook. Gradually working my way the entire collection of recipes in it. Maybe that can be my challenge for next year – cook EVERY recipe in Gwyneth's book!
What's your favourite cookbook? What does it take to win you over? Glorious photographs and heartwarming stories alongside the recipes? Or is it all about the food for you? Elegantly gourmet or fast and furious?