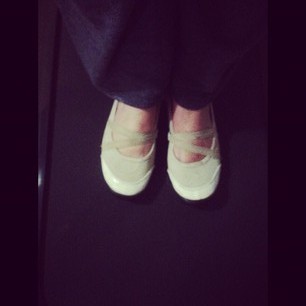 After the great shopping disaster where I was unable to find a suitable outfit for "my body shape" I decided with just four months of my Project 44 challenge left I probably should tackle the one goal I hadn't even attempted yet. The losing weight one.
The treadmill was unearthed from the garage when I first announced this goal, and has sat staring at me in my bedroom ever since.  Bearing in mind the last time anyone in this family got on a treadmill it involved an ambulance, being airlifted to Sydney and a double heart-bypass (and he was the skinny, healthy eating family member) my reluctance to fire up the machine of death is understandable.
The first challenge was finding an extension cord to plug the thing in. After scouring various cupboards and still to be unpacked boxes I eventually stole the one connected to the fan heater, the dog, sitting in front of it, was not impressed.
The second challenge was discovering I don't own any joggers/sneakers (whatever you like to call them). It's been some time since I required anything faintly resembling sportswear. I made do with an old pair of rubber soled shoes.
The treadmill was purchased some ten years ago, used about three times, and from then on has simply stood as a twisted modern sculpture in living rooms, a useful  clothes horse  in bedrooms and a dejected dust collector in the garage. I didn't think it would even start, but it appears the Gods are against me, because start it did.
I selected the easiest program, and the monster lulled me into a false sense of security starting with a grandma pace which I could have done standing on my head. Gradually though we gained speed. Still going OK. Still going OK. Still going OK. Hit the 15 minute mark and now the thing expects me to run! I don't run. The knees gave out years ago, there is no way these babies can run.
Spinning through my head are images of fit, healthy people dropping dead during marathons. By now I'm sweating. Which I must say is an extremely unbecoming state. I wonder if I can jump off. Oh my God it's going faster. Where's the stop button? If I let go of the handles to reach the stop button will I fall? Where are my children? They want me to exercise, the least they could do is supervise me on the treadmill of torture. My legs are starting to burn. I'm puffing. What if I can't breathe? Will anyone hear my whimpers for help? Suddenly my heart rate disappears from the monitor. That's it then I've died, I'm clinically departed this world. Is my will up to date? Oh hang on I've just moved my hands off the part of the handle that monitors heart rate.
I admit defeat slam the stop button and crawl from the instrument of evil.
I did 20 minutes on the easiest program level and I think I may have seen a glimpse of the afterlife. Skinny is a long way away at the moment. The heart rate apparently didn't go too high but an anesthesiologist once told me I had the pulse of a well-trained athlete, so that's to be expected. Mr Shambles has something to say about that but it's my blog and I get to edit comments which don't gel with my interpretation of reality.
What are you doing for exercise lately?