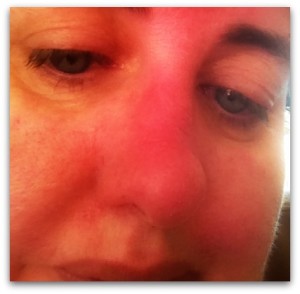 It just sits there on my face, doing nothing much in particular. Then one day a scaly lump appears on it and suddenly my nose is trying to kill me.
It's always been a bit dodgy. A childhood of allergies and colds left me with very little sense of smell. Unless I'm pregnant. Then, for the only time in my adult life, I can smell the ocean, and the odours of the shopping centre food hall, right before I start throwing up.
It was a bit obstreperous last year. Sinusitis and allergic sneezing and dripping was a constant throughout 2012. But it 2013 the nose has really upped the ante.
I've just had a basal cell carcinoma removed from the bridge of my snozzal.
The surgeon snipped it out a week ago, while I waited for the stitches to be removed, I tried not to think about the fact my husband fainted when he saw my Grandmother after surgery to have a BCC removed from her nose. Although I did quietly give up the dream of becoming a supermodel. Another unfulfilled ambition bites the dust, sigh.
I do my usual OMG I'M GONNA DIE. As I do every time I walk into any sort of medical establishment. I acknowledge that can be a touch of an overreaction, particularly when I am there to pick up someone else from THEIR appointment.
I google BCC and try to be relieved when the internet advises it's "the most common and least lethal form of all cancers". It's also "slow-growing", which is lucky when you consider how long it takes for me to notice these things and then do something about them.
The stitches came out yesterday, surprisingly the scar isn't that bad, really quite hard to notice among the existing wrinkles and age pigmentation.
The doctor is brusque and to the point, pathology confirms it was a BCC but is inconclusive on whether it has all be removed. Because it is important to leave me with lingering anxiety, what the hell else do I have to keep me awake at night! Right about now would be a good opportunity for anyone who has had an inconclusive result on a BCC to jump in and tell me that was 20 years ago and they have never had a minutes trouble from it again.
My doctor is convinced he got it all, but books an appointment for three months to check it again. I try not to think about my Grandfather losing an eye to a BCC.
So this is how you get to spend holidays in middle age – having sun cancers removed and stressing about losing your nose! Fun times.
How has your health been lately?