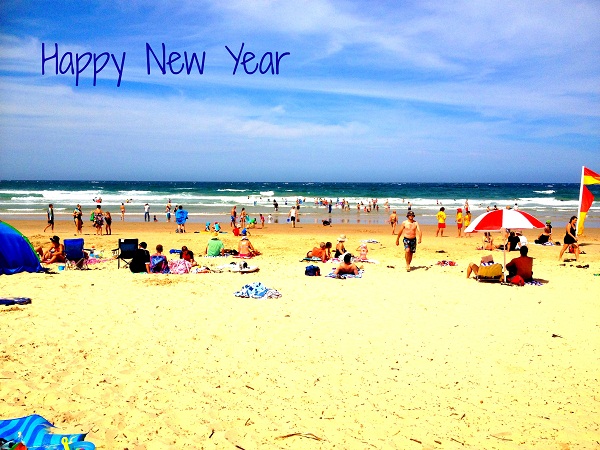 The clock ticked over and the fireworks erupted, and so we moved on. Into a new year full of possibilities, with the usual clean slate and so many plans for how we'll do better, be better, achieve more. Or maybe we'll just sleep, swim and eat for the start of the year. Tomorrow we'll get onto that to do list, but today we'll just chill.
How did you spend New Year's Eve? My mother and Aunt Dorothy arrived at the local club at 3.30pm to be certain of securing a good view of the 10.00pm fireworks (I really should have put them in charge of securing Springsteen tickets – do people still camp out to get concert tickets?). We wandered in at 6.00pm. By 9.00pm we were fading fast, party animals that we are. We managed to stick it out to see the family fireworks display, extracted Hippie Child from the local carnival and made it home in time to watch the Sydney fireworks on the tele. Then off to bed, like I said, party animals.
Unfortunately my lung cancer/emphysema/asbestosis kicked in and I spent the next five hours alternatively coughing and surfing the net bragging about how we were a year ahead of you guys in that other hemisphere. Please note I am well aware that two lung x-rays have discounted the option of cancer/emphysema/asbestosis and something like five doctors have now diagnosed the can't-get-rid-of-it-cough as asthma, but in my drama queen mind, in the early hours of the morning, I'm picking out funeral hymns.
After a slow start to the first day of the year we lazed around the house until late afternoon then headed to the beach for an icecream and pizza for tea (as usual I failed the food blogger test and only thought to capture a pic of the pizza after the hoards had devoured most of it).
How are you spending the first day of 2013? Are you rugged up against the winter chill in front of the fire? Or are you off holidaying in an exotic locale? Did you party hard to see in the first dawn of the year or were you tucked up in bed before the countdown even took place?