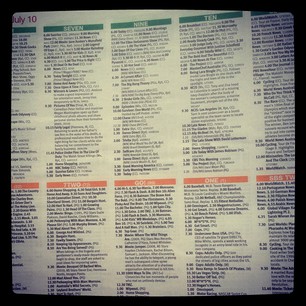 Is it just me or has TV gone to hell? There was a time when my frustration level with television revolved around the fact all the good shows were screening at the one time I couldn't manage to tape them all. Now I struggle to find even one decent show a night to watch. Of course I could spend my evening doing something worthwhile like, you know writing that book I've been talking about, cleaning the house or learning to do something useful like sew. That way my daughter's school uniform wouldn't be creeping upwards to unacceptable levels because she insists on GROWING, or the hem of  my second-best work trousers would no longer be dragging undone on the ground, tripping me as I walk.
But no instead I sit transfixed by the flickering light emitting from the box in the corner even though my choices are reruns or reality shows and I don't really like either option.
What is this obsession with reality TV? For goodness sake it's a custard tart it's not worth crying over. Really, if I cried every time I screwed up dinner I would be a sobbing, hysterical wreck every night of the week.
I made it through a fair portion of The Block. Which was ironic really, watching others dealing with their renovation disasters while we sat in our own unfinished home. I could have just turned off the TV and set Mr Shambles to putting up the architraves while I argued with him, got the kids to tape it and created our own TV show.
The talent shows have come a long way since Bert Newton's New Faces unleashed a funny harbour bridge rigger onto the world, hello Paul Hogan. Australia's Got Talent has glammed up and repackaged the concept, but remains  one of the few shows where even a stripper can make it to the grand final!
As for the singing shows, The Voice, X Factor – people if you sing and you can't manage to get your head on TV at the moment you really need to reconsider your career choice. It's helpful if you have a back story with a bit of drama that will make the sobbers in the audience (aka me) have a little cry and hope against hope you make your way through, it also means you get more air time than the talented one with a nondescript history. Strategy is important.
Then as a last resort you could tune in to Lara Bingle or The Shire. I've lasted about six minutes on each. You can't be serious, THIS IS TIME YOU CAN'T GET BACK, do you really want to go to the grave knowing you devoted hours to watching these people debating their plastic surgery or dealing with angry calls from Nana about their nude photo opportunity for the paparazzi? Apparently we still have "fashion entrepreneur and social superstar", Brynne Edelsten's reality show to come. Is there no end to this madness?
Please Mr/Ms TV Execs tell me our insatiable appetite for watching others trapped in manufactured situations, unleashing their emotions from bitchy to manic to tearful, is almost over. What? You are bringing back Big Brother? God help us. Can we at least get some new episodes of NCIS just for a little bit of diversity?